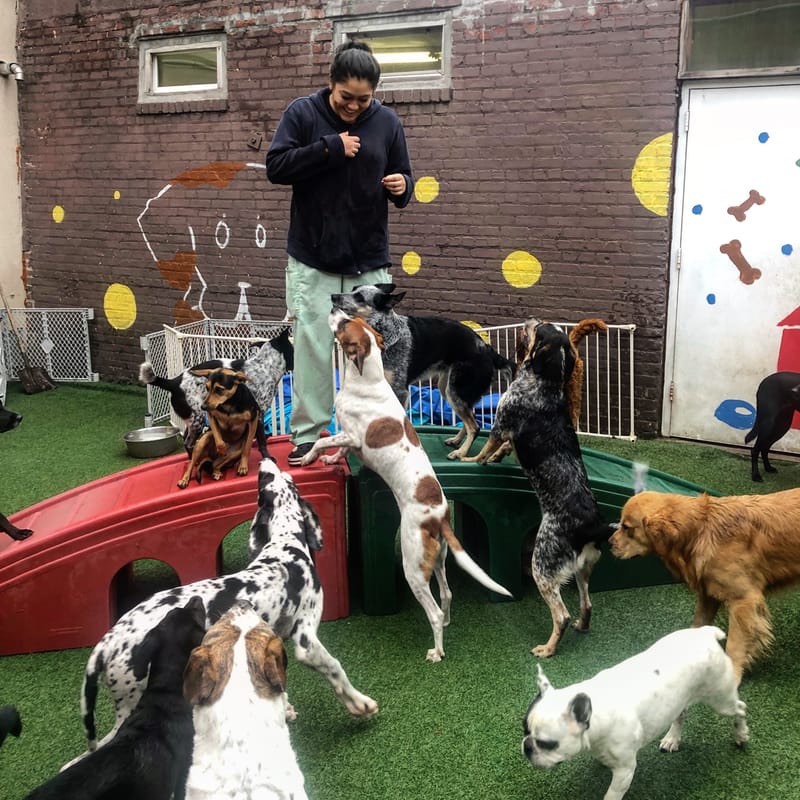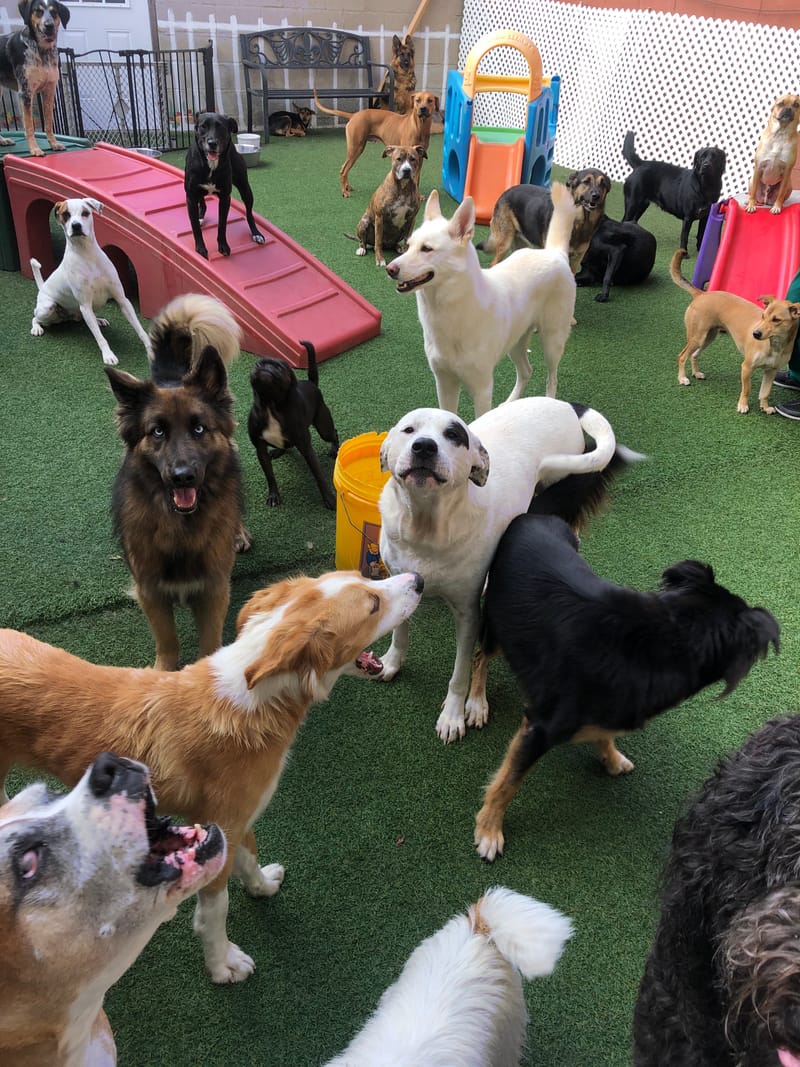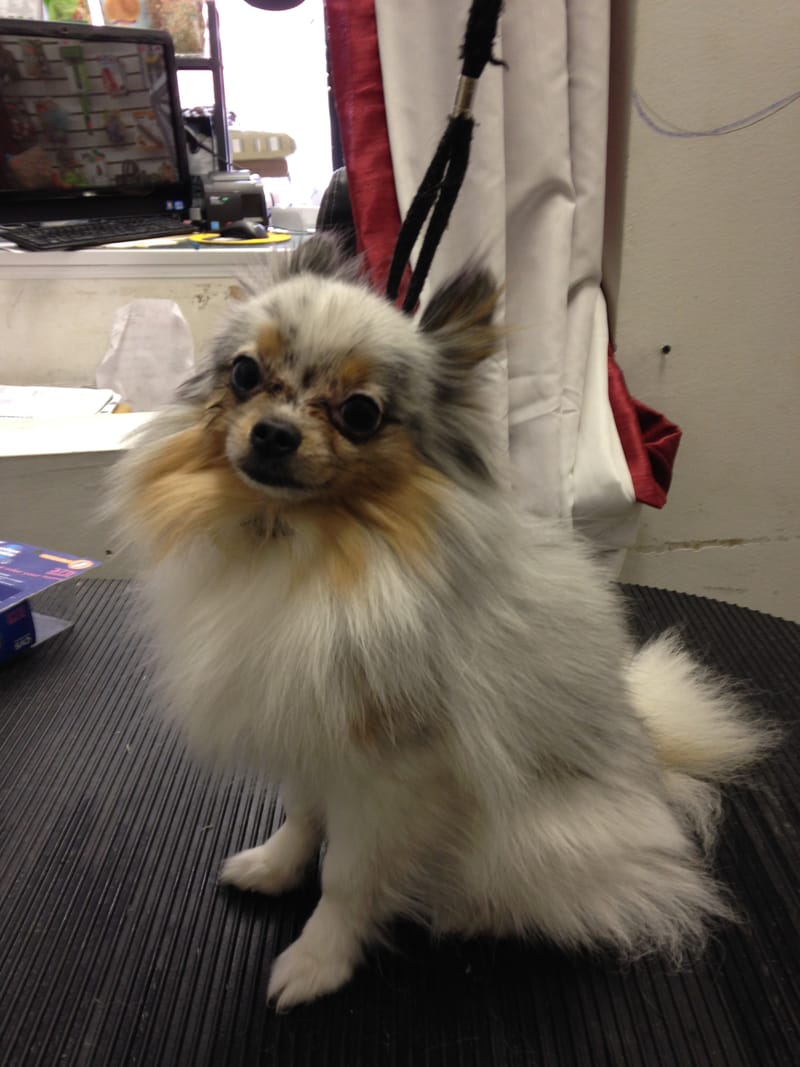 Receive 10% off on all services for 2nd petDaycare
FULL day $42
Half Day (up to 5 1/2 hours) $27
Daycare Packages
10 day $360............... $36 per day
15 day $510................$34 per day
20 day $660................$32 per day
30 day $880................$29 per day
40 day $1080..............$27 per day

Half Day Package (up to 5 1/2 hours)
15 Half Day $375.......$25 per day
Feline Daycare/Boarding at Green Pup $25 per day Boarding Cats $5 additional weekends $8 Additional Holiday
Bird Sitting at Green Pup $25 per day $5 additional weekends $8 Additional Holiday
There will be a late fee of $20 per hour for any pet that is picked up after 8pm. Any pet at/after 10pm will be considered boarding.
Boarding
Ten consecutive nights or more receive 10%
2 dogs and ten consecutive nights or more receives 15%
$65 per night
Add $5 Weekends
Add $8 Holidays
Add $3 Medical Admin/Pill Admin
Meals
available during boarding $5 per meal
Snacks During Boarding
Ice Cream- Vanilla or Coco $5
Stuffed Kong- chicken, Beef, and/or peanut butter $7
Boarding Packages No extra charge for weekends Holidays Add $8
Open to Green Pup Members
OnlyAll prepaid nights must be used within 5 months of purchase
10 Night $600 ....$60
20 Night $1120...$56
30 Night $1620...$54
40 Night $2000...$50
Street walks while boarding (Optional) $11 half hour and $14 hour
Feline
Boarding $25 per night $3 additional weekends $5 additional holidays
Private Suites
4x6 $80 Holiday Add $8
5x8 $90 Holiday Add $8
8x8 $100 Holiday Add $8
Dog walking
Indiv $28 Hour $18 Half Hour
Group $23 Hour and $20 Half Hour
Private Walking Packages
5 walks $22 Hour 2 walks $24
Weekend/Holidays/Off Peak $30
Group Walking Packages
5 walks $16 Hour 2 walks $18
Weekend/Holidays/Off peak $24
Grooming
Because no two dogs are the same, dog-grooming prices may vary by breed, age, hair length, weight, temperament, and special needs.
Bath plus haircut starts at $70 length of hair, tangles, and manageability will affect price
Regular
Coconut
Bath onlyU
p to 40 lbs $45
41-80 lbs $50
81-100 $55
100 plus $60
Hypoallergenic Bath (No scent) Add $5
Deshedding Bath Add $25
Flea Bath Add $15
Medicated Bath Add $15
Feline
Bath only $50
Bath+Cut/Shave $70
Cut/Shave only $65
Specialty baths
Rosemary/Eucalyptus $55
Brightening $55
Milk $55
Green Pup Royal Treatment Packages
Rejuvenate: Whirlpool bath/Condition wrap, and Aromatherapy massage $99
Renew: Whirlpool bath/Lavender Facial $120
MINI
(in between) groom- $40 (Does not include a bath) Quick trim of the face,feet, and buttock
Spa a la carte
Sports pawdicure $15
Spa Pawdicure $15
Deluxe Pawdicure $17
Oral hygiene $12
Sanitary Shave $15
Cucumber Facial $12
Body Wrap $13
Paw/Nose Massage $8
Anal Expression $18
Ear Pluck $14
Massage
Reiki $30 for 30 min
Hip and Joint massage +Bath $70
T Touch ranges $30- $50 30 min $50-$70 1 hr
Aromatherapy $25 focus on paw and nose
Deep Conditioning Wraps:
Hot oil /Mud/ Sauna $35
Hydrotherapy Whirlpool bath $125 45 min
Petsitting
Cats:
All visits are approximate 20 min includes change litter, feeding, playing.
In home
non medical
visits cat care $25 for first two cats $5 additional 3 or more cats. Includes one to two visits. For third visit $5 additional.
Medical visits
for cats/or dogs: Insulin administration, medical admin/care, pill administration $7 additional.
Dogs:
All visits are approximate 20 min includes feeding, and relief walk. $30 Add $10 for 2nd visit same day.
Birds: All visits are approximate 20 min includes cleaning cage, feeding, fresh water. $30 Add $10 for 2nd visit same day.
Overnight Pet sitting in your home
One Pet $95
Up to 2 Dogs or/and Cats $105
More than 2 pets Add $15
Add $3 Medical Admin/Pill Admin
Membership Annual fee $150
Year Round Benefits...
Receive 12% off year round on all services including the retail pet store.
Discounted Boarding Package availability
Free membership in the toy of the month club
Shuttle service
Pick up/drop off service Price depends on location. Ranges from $10-14 weekly.